/b/tard surging
/b/tard has received a big push in recent weeks since the release of the siri app. Siri is dwindling now and it's search term has dropped to the second page. But the long lasting impact has been already felt upon /b/.
First of all, a search for "4chan" on Google results in /b/tard listing on the first page!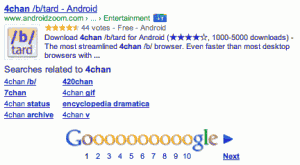 A search for "4chan" on the Android market now has /b/ in the second top most spot! We are second only to Anonymous which was the app that I loved so much that inspired me to create /b/tard.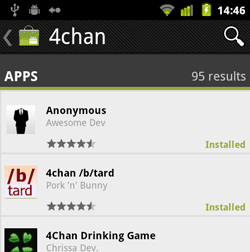 And of course our download stats have surged, we are now in the coveted 5k+ range and headed for 10k!

So after a couple more updates to Siri Says Silly Stuff, /b/tard will get a big update.
action bars
gallery view
vastly reduced memory usage
optimised layouts
But for now, to celebrate, a fresh new logo!